Overview
Monaghan is the first county to introduce full-coverage community text alerts with thanks to an innovative partnership between the community sector, An Garda Siochana and Monaghan County Council.
This comes after a four-year collaboration between the JPC and Gardai in an effort to establish how best to support communities in addressing rural crime and bringing 36 individual community alert groups into one system so sending out alerts becomes streamlined, making life easier for Gardai.
To achieve this they turned to Komeer, an engagement platform that was built to their requirements with the ability to send alerts, create events and collect payments and also eliminate concerns of out-of-date data, user consent, privacy issues and data management with our GDPR checklist feature.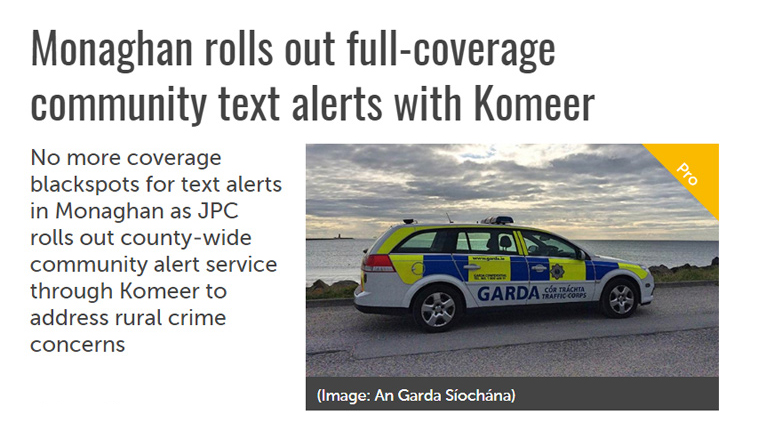 "From the minute we appointed Komeer to deliver this project, they have been energetic, imaginative partners on this journey with us."
With over 30 local groups, the group administrators had varied responsibilities. The Gardai and administrators were working from different systems which resulted in very high SMS costs, along with the hassle of GDPR and keeping all members data compliant and secure.
With the old systems, the group admin and community members had to go door to door to collect contact details and €10 to cover the costs of the SMS credits. This method was time-consuming and unreliable.
The community didn't feel connected with the Gardai as everybody was not receiving important and urgent alerts.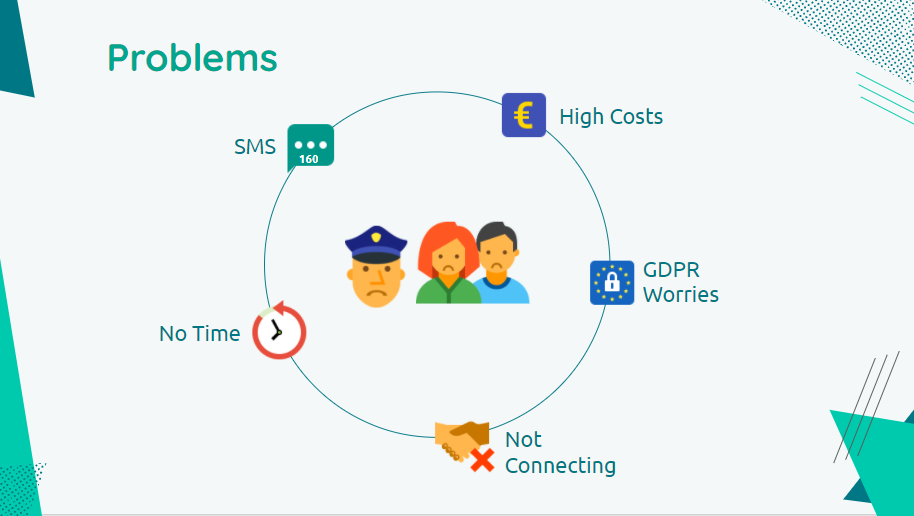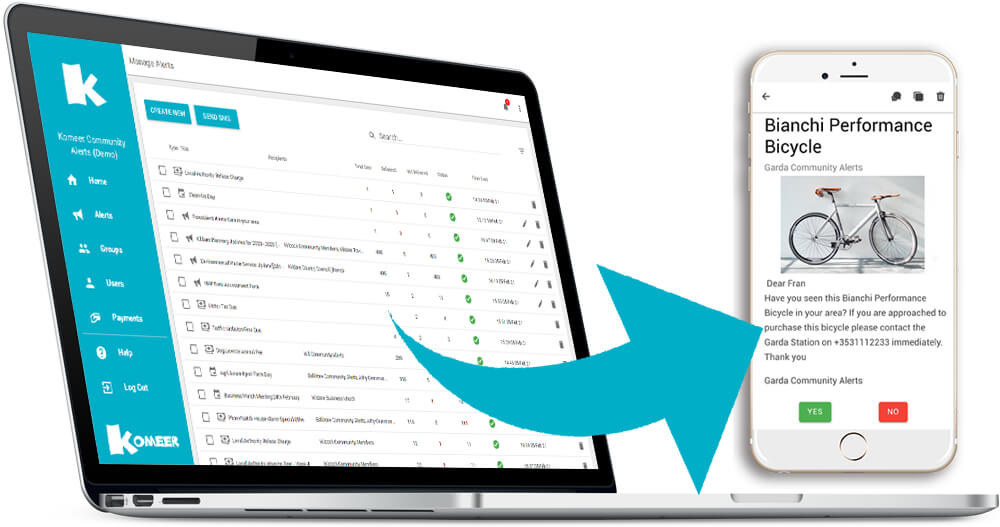 Over two months, we worked closely with all parties to develop an engagement platform that is robust, secure and user friendly. With all projects there are challenges, with a dedicated dev team and by brainstorming and consulting with all parties these challenges were easily overcome.
The solution was to combine all local groups into one system and by creating a unified platform the Gardai could quickly send alerts to all community members and reduce the cost of SMS. The alerts will be received by app, email, web app, sms and voice so no one is left out.
Our GDPR dashboard feature was in development at the time and we wanted to complete a feature that was fully automated and will inform when data needs to be rectified or updated etc. This was a very important feature that would need dedicated attention as the system will be storing over 8,000 members data.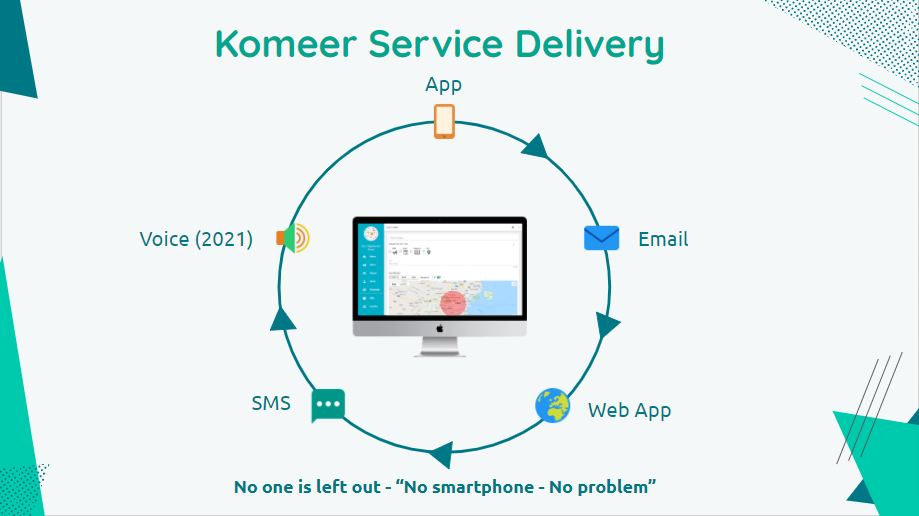 "Komeer's development team have been more than willing to find ways to do anything we wanted the system to do for us."
After migrating all resources into the one system and combining all local community groups together this made life so much easier for the Gardai. This allowed the Gardai to send alerts instantly to all community members, even from their mobile phones when they were out and about by simply using their email address. 
As a result, crime was reduced and money was saved on SMS costs as members could receive alerts by App, Web App and Email. All members data was up to date and compliant helping save a lot of admin time.
With the built-in GDPR feature, privacy issues and data management have been eliminated as Komeer provides data support, health checks, consent request and data management within a centralised low-cost compliant solution. We delivered a platform that excelled at the requirements outlined in the project.
The citizens of Monaghan now feel a lot safer and more connected with the Gardai and the entire county.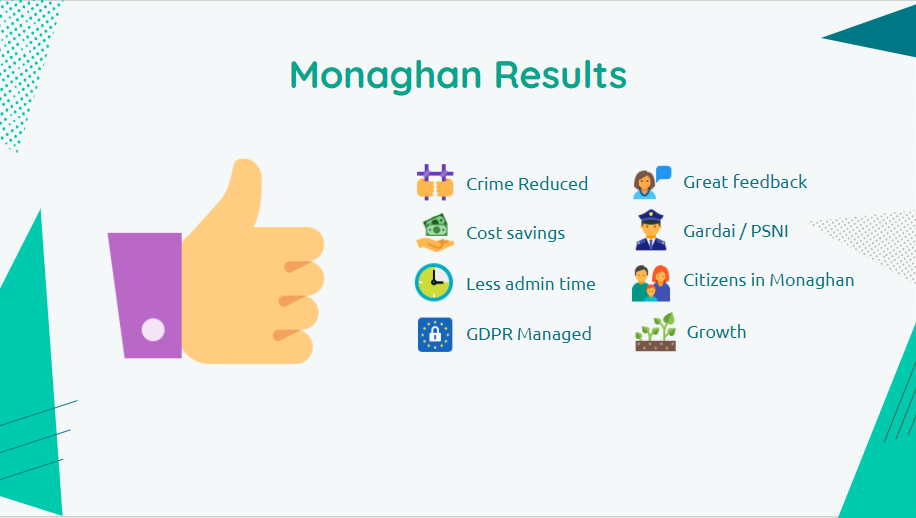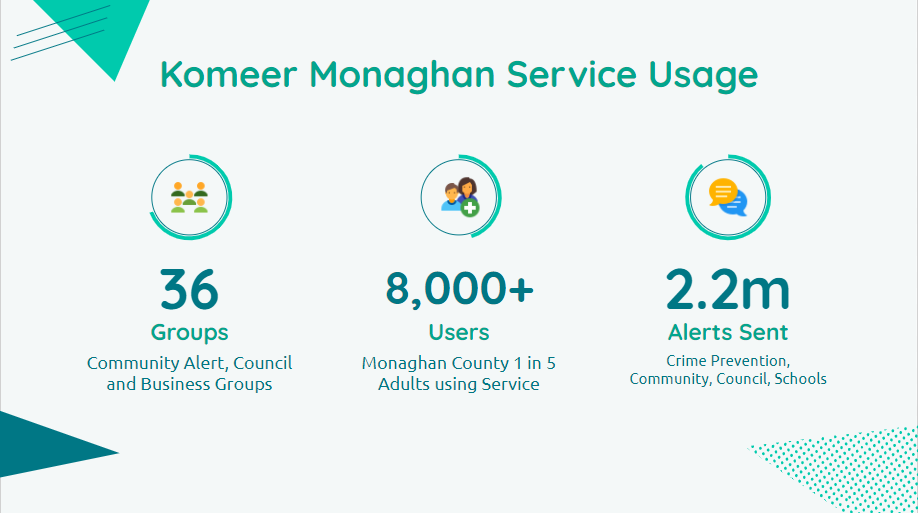 From the minute we appointed Komeer to deliver this project, they have been energetic, imaginative partners on this journey with us. No other county has tried to co-ordinate all their community alert groups into one service before, so getting this project up and running has taken a lot of problem solving. Komeer's development team have been more than willing to find ways to do anything we wanted the system to do for us. Nothing is ever any trouble, and it's always delivered in double-quick time.

 

The support that Komeer has provided to us in terms of publicity material has been second to none. They worked with us to produce posters and sign-up forms which were eye catching and which carried all the essential project information. Files were provided to us in jpg and pdf format for our own use as well as printer ready,"